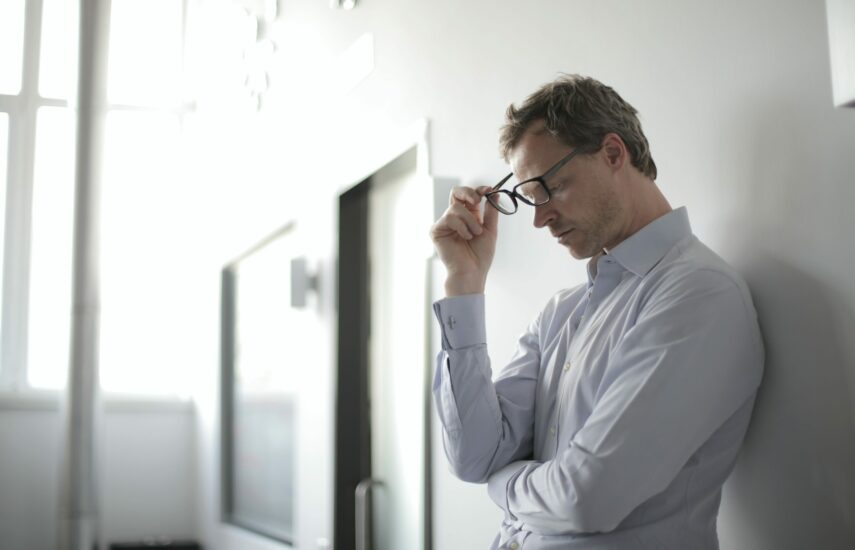 Anxiety or anxiety disorder is your body's natural reaction to stress. It is a feeling of fear about what's to come. Anxiety disorders involve more than regular fear or stress and can deeply affect one's quality of life. The 6 main types of anxiety disorders include:  
Generalized anxiety disorder (GAD):  People with GAD suffer from anxiety almost daily. The fear and worry never leaves their mind and can lead to depression.  

 

Social anxiety: Social anxiety is the intense fear of being humiliated in public or in any social setting, even for minor activities such as public speaking.  

 

Phobia-related anxiety: Phobia-related anxiety creates a fear of a certain situation or activity where avoidance seems like the only solution to cope with the fear.

 

Panic disorders: This causes constant panic attacks because of overwhelming anxiety and stress. Someone having a panic disorder might experience the following symptoms: shortness of breath, chest pain, an increased heart rate, and dizziness.

 

Obsessive-compulsive disorder (OCD): OCD is a disorder generated by a high level of undue stress and anxiety. People with OCD develop extreme habits for certain things to cope with the anxiety. An example of this can be obsessive washing of the hands, obsessive organization, and fear of germs.

 

Post-Traumatic Stress Disorder (PTSD): This disorder is generated by high levels of anxiety due to experiencing a traumatic event. 

 
What causes anxiety disorders? 
The exact cause of anxiety disorders is unknown, however a combination of factors such as genetics, environment, and brain chemistry can play a role in the development of anxiety disorders in some.  Diagnosis of anxiety disorders is involved and may include a variety of testing. Some physicians also perform urine and blood tests in order to rule out other causes. 
What are the common symptoms of anxiety disorders?
Not everyone suffering from anxiety disorders has the same symptoms. Symptoms vary per case and may include a combination of physical and non-physical symptoms such as:  
Persistent worrying that interferes with daily activities.  

 

Overthinking to all possible worst-case outcomes 

 

Viewing situations as threatening, even when they are normal.  

 

Indecisiveness and fear of making the wrong decision. 

 

Feeling restless and on edge all the time.  

 

Difficulty concentrating. 

 

Blanking out. 

 

Constant Fatigue 

 

Trouble sleeping 

 

Nausea, diarrhea, or irritable bowel syndrome 

 

Irritability.  

 
Risk factors that might increase the risk of anxiety disorders
There are several factors that could increase your risk of developing an anxiety disorder, some include:
Trauma: People who endured trauma or witnessed traumatic events are at higher risk of developing an anxiety disorder at some point in their life.
Stress due to an illness: Having a serious illness can cause significant stress and worry about issues such as treatment and future complications which in return causes a higher risk of developing an anxiety disorder.
Other mental health disorders: People with other mental health disorders, such as depression, often also develop an anxiety disorder.
Drugs and alcohol abuse: Drug and alcohol use or misuse can cause anxiety or worsen it in cases where it is already present.
How is anxiety treated? 
Anxiety disorder treatments differ per individual. Healthcare professionals can help determine the best course of action per patient. One of the possible treatments for anxiety disorders is psychotherapy.    Psychotherapy or psychological counseling involves working with a certified therapist to reduce anxiety symptoms and triggers. Cognitive-behavioral therapy may be the most effective form of psychotherapy for generalized anxiety disorders. Cognitive-behavioral therapy focuses on teaching specific skills to help directly manage a patient's worries and gradually help them return to doing the activities they may have avoided due to anxiety.   
When to seek medical help? 
If your anxiety symptoms are preventing you from focusing on daily activities, speak to someone. If you are unsure where to start you may want to book an appointment with a medical professional. Various forms of telehealth are now available for psychotherapy and counseling to make seeking treatment more efficient. In addition, you can request refills for online prescriptions online. Consider booking an online appointment with Tia Health to speak to a medical professional and learn more about what your options are. 
Book an online appointment to speak with a doctor today.