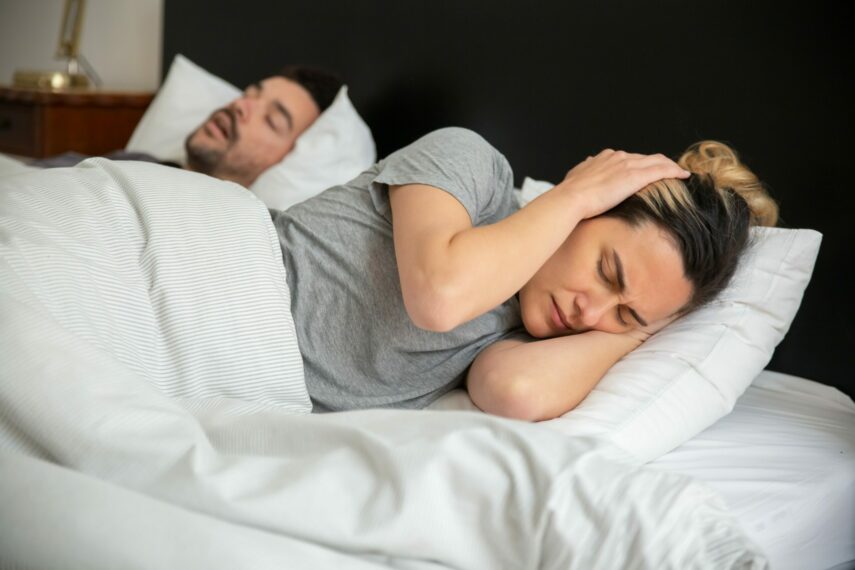 Obstructive sleep apnea is a condition strongly associated with gasping and heavy breathing, but can you have sleep apnea without snoring?
Our blog looks at sleep apnea and answers your frequently asked questions about sleep apnea and snoring.  
What Is Sleep Apnea? 
Sleep apnea is a sleep disorder that blocks or partially blocks your breathing during sleep. Based on the number of times your breathing is disrupted, this condition ranges from mild to severe. Sleep apnea may occur from 3 to 50 times per hour of your sleep.  
There are two types of sleep apnea:  
The first is obstructive sleep apnea. It is the most common type of sleep disorder in Canadians. It occurs when the upper airway gets blocked during your sleep. The blockage is triggered when the soft tissue in the back of the throat collapses and closes during sleep. 
The second is central sleep apnea. It is a less common type of sleep apnea condition. It may occur in people who have experienced heart stroke, heart failure, take certain medications or have a brain tumour.  
In this blog, we'll focus on obstructive sleep apnea.  
What Are the Causes of Sleep Apnea? 
Obstructive sleep apnea may be caused by narrowed or blocked airways in your nose, throat, or mouth. This happens when the muscles of your throat and tongue relax during sleep.  
Apnea condition may also occur if your adenoids or tonsils are too large. They may press and narrow your airway, causing sleep apnea. 
Finally, sleep apnea may occur if you are experiencing obesity, take certain medications, drink alcohol before bed or sleep on your back.  
Is Sleep Apnea Hereditary? 
While most obstructive sleep apnea causes are related to health conditions and are lifestyle-based, 40% of the other causes are hereditary. The more family you have with sleep apnea, the higher your risk of developing it. Unfortunately, we don't yet know which generic mutation causes sleep apnea. 
How Do You Know If You Have Sleep Apnea?
Some of the main symptoms of obstructive sleep apnea include:  
Waking up with a headache 

 

Experiencing sleepiness during the day

 

Feeling unrested after you sleep 

 
Your family member or your partner may notice the following symptoms while you are asleep:  
Snoring loudly

 

Gasping or choking

Tossing and turning

 

Stopping to breath

 
Children with sleep apnea may experience the following symptoms: 
Snoring constantly

 

Being hyperactive and lacking attentiveness 

 

Waking up during the sleep

 
But the best way to get an answer to 'how do you know if you have sleep apnea?' is to discuss your symptoms with a doctor. 
Can You Have Sleep Apnea Without Snoring?
Indeed, obstructive sleep apnea and snoring are often associated with each other. However, not everyone who snores has sleep apnea. Snoring that results from sleep apnea is usually loud and followed by periods of silence.  
If you experience any signs or symptoms of sleep apnea, including snoring, or your partner notices a symptom of sleep apnea, consult a healthcare professional to evaluate your symptoms. 
 
What Are The Complications of Sleep Apnea? 
Having a chronic sleep apnea condition may lead you to develop the following health disorders: 
An abnormal heart rhythm & other heart-related conditions 

 

Depression 

 

Diabetes 

 

High blood pressure 

 
Another frequently asked question about sleep apnea is, "can sleep apnea kill you?" If untreated, obstructive sleep apnea can lead to complications and may lead to life-threatening conditions. 
Can Sleep Apnea Cause Infertility?
Research suggests that sleep disorders and disturbances, including sleep apnea, are associated with metabolic and neurocognitive functions. As a result, obstructive sleep apnea can increase the risk of infertility in men. 
Treatment of Sleep Apnea: Can sleep apnea be reversed?
Changing your lifestyle habits can help treat mild sleep apnea.  
Some of the ways to do this include:  
Establishing a healthier diet 

 

Increasing your physical activity

 

Stopping to smoke/vape

 

Stabilizing your sleeping routine 

 

Avoiding alcohol & sleeping pills

 

Sleeping on your side instead of your back

 
To effectively treat sleep apnea, you may need to consult a specialist. A medical professional will analyze the condition to determine whether it is mild, moderate, or severe. This will help to plan a further course of treatment that would be most appropriate for you.   
Moderate and severe conditions of sleep apnea must be treated professionally. If sleep apnea symptoms prevent you from normal day-to-day activities, speak to a specialist. Consider booking an appointment with one of our doctors to discuss your symptoms and learn more about your options. 
Book an online appointment to speak with a doctor today.