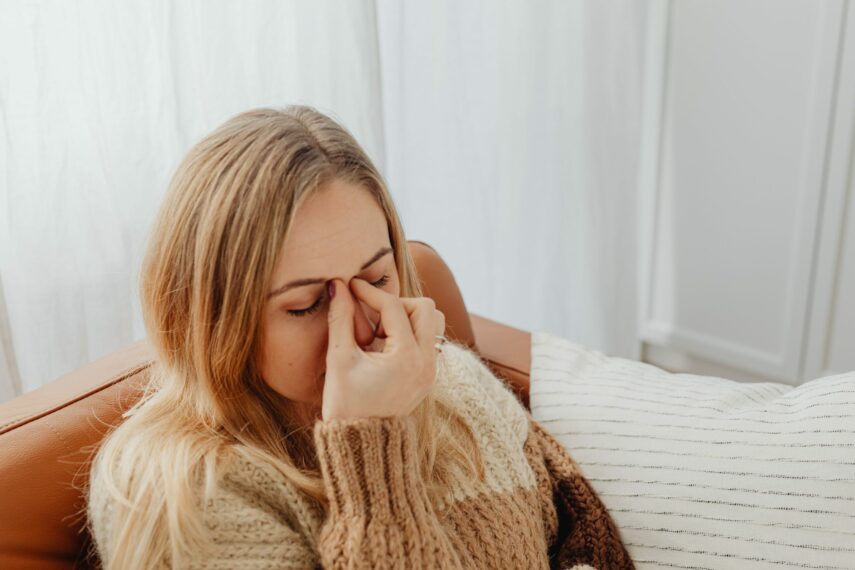 What Is Sinus Infection or Sinusitis?
Sinusitis or a sinus infection is an inflammation of the tissue that lines the sinuses. It occurs when fluid gets trapped in the sinuses and causes infection. 
Sinus infection causes an uncomfortable sensation, pressure, and pain in areas of your head and face. The symptoms usually last seven to ten days and determine if the sinus infection is acute (sudden) or chronic (long-term). If the sinusitis lasts 12 weeks or longer, the condition is chronic.  
What Are the Causes of Sinus Infection? 
In many cases, a virus, bacteria, pollutants, or fungi in the air cause sinusitis. Frequently, sinusitis occurs after a cold.   
When the lining of the sinus cavities gets inflamed from a cold, it swells. The swelling blocks the healthy drainage of the sinuses and leads to a buildup of fluid. As a result, bacteria, fungi, or germs grow and cause more swelling and pain in your face.  
What Are the Symptoms of Sinus Infection?
Sinus infection symptoms include: 
Pressure and/or pain in the face area

 

Runny and/or blocked nose

 

Headache 

 

Reduced sense of smell

 
Nasal mucus

 

Sore throat and/or cough 

 

Yellow or greenish discharge from the nose or down the back of the throat

 

Tooth pain

 
Sinusitis vs Common Cold 
Even though some of the symptoms of cold and sinusitis may be similar, these conditions are different but are often confused. Let us uncover some of the main differences between cold and sinus infections. 
One of the main differences is the duration of the symptoms. While a

cold

usually lasts 3 to 7 days, sinusitis has a longer symptom duration of 4 weeks to 3 months. 

 

Cold symptoms peak during the first 3 to 5 days. The symptoms of sinusitis may remain severe for 10 days to 4 weeks. 

 

One of the sinusitis' distinct symptoms is pain

in the face that does not occur during a common cold.




 
Is a Sinus Infection Contagious?
The sinus infection could be contagious if it was originally caused by a virus such as a cold. This may cause an infected person to get a cold which may develop into sinusitis.  
Frequently, germs, bacteria and fungi cause sinus infections. If this is the case, the sinusitis is likely not contagious.  
When Do I Need to See the Doctor for a Sinus Infection?
Consider booking an online appointment with Tia Health to speak to a medical professional and learn about sinusitis diagnosis if the following symptoms do not improve after two days of your treatment at home: 
A headache that is not relieved by an over-the-counter pain medicine

 

Severe pain in the face or upper teeth

 
The pain extends from the bridge of the nose to the lower eyelid

 

Cold symptoms last longer than 10 days or get worse after the first 7 days

 

Nasal discharge that starts clear and later becomes thick and discoloured (yellow or green)

 
Book an online appointment to speak with a doctor today.