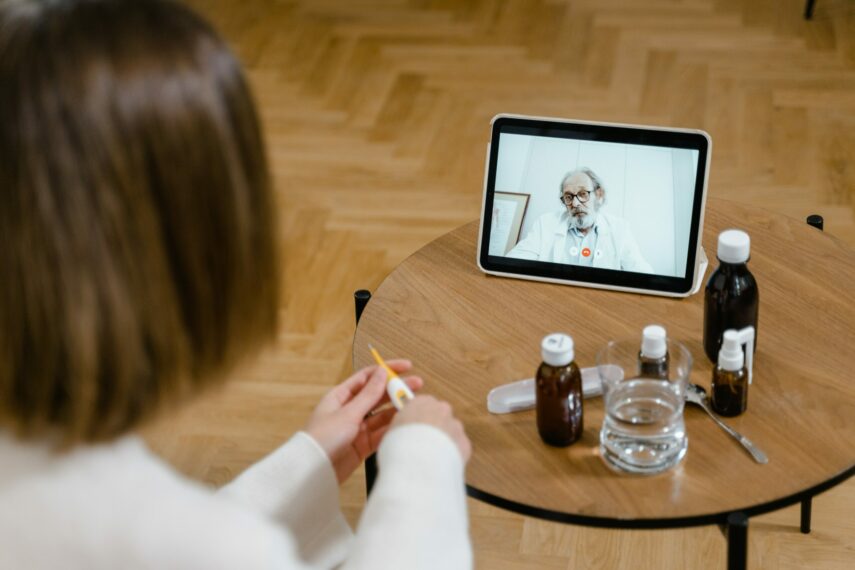 What is telehealth?
The chances are you have already had some experience with telehealth, especially if you have tried to visit your family doctor or a walk-in clinic during the pandemic.
Simply put, telehealth is when you (the patient) speak to a healthcare provider (often a doctor) without being in the same space. Usually, telehealth means attending a virtual appointment via a telephone or video call.
It may sound intuitive, but it wasn't always this way!
While some organizations, including Tia Health, have pioneered telemedicine for years, it wasn't until the COVID-19 pandemic that it became so essential.
Why are online doctor appointments a good thing?
Earlier in the pandemic, virtual appointments allowed doctors to maintain high-quality care for their patients while reducing the risk of face-to-face appointments. From a patient perspective, an online doctor appointment lets you talk to a healthcare professional from the safety and comfort of your home. Or from the office or on the go!
However, it would be a mistake to think about telehealth as only beneficial during COVID. If you think back a few years, one of the biggest problems with seeing a doctor was the waiting room…
If you were visiting a walk-in clinic, you could spend a long time in a busy waiting room! This often made the process of seeing a doctor time-consuming and sometimes frustrating. You are also not always near the same clinic, meaning your walk-in doctor could not necessarily see your previous notes.
Why use telehealth services?
Book whatever time is convenient for you
Meet with a doctor from the comfort of your home
Skip the time and effort of making your way down to the clinic
Manage your care around family and work obligations
Telehealth offers a compelling package for patients, providing more convenience and control over your care.
What appointments can I book with an online doctor?
A great thing about telehealth is that you can treat your appointment just like any other visit to a walk-in doctor.
If you want to consult a physician about cold or flu symptoms, you can do that. You can also discuss anything from prescriptions and skin conditions to your sexual or mental health concerns.
Can I get a prescription via telehealth?
Yes. With Tia Health, you can skip the waiting room, and if your doctor believes it is the best course of action still get a script for prescriptions sent directly to your preferred pharmacy. You can even have your prescription filled and delivered to your home.
To discuss a prescription, book a virtual doctor's appointment. During your appointment, a doctor will determine the best course of treatment and, if appropriate, write a script for a prescription. You can receive online prescriptions for many common reasons or conditions, such as birth control and acne. However, our online doctors are unable to prescribe controlled substances and narcotics.
Are lab requisitions and referrals possible via telehealth?
Absolutely. To get an online lab test referral, you should book an appointment to speak to a doctor about your symptoms. And if your online doctor agrees you need a test, you will receive a requisition form. You can take this form to your preferred test provider and arrange a convenient time to complete your test.
After your lab test results are available, a Tia Health doctor will contact you to discuss the results.
Tia Health doctors can refer you for the following tests:
Blood tests
Ultrasounds
X-rays
Sexual health tests
And more

Can I see an online medical specialist? 
As always, you will need a referral from a primary care physician to see a specialist. Tia Health physicians can provide those referrals if they believe consulting with a specialist is the best course of action. You may be referred to a variety of specialist physicians, including but certainly not limited to:
Psychiatrists
Pediatricians
Dermatologists
Physiotherapists
Podiatrists
Gynecologists
All you need to do is book an appointment with one of Tia Health's online doctors to get started.
So, is telehealth the future of healthcare?
It certainly seems that way. That isn't to say that in-person healthcare isn't needed anymore. Of course, it is. There are many times when attending an appointment in person is an absolute must. Telehealth is not about replacing in-person care. It is a new tool that provides both physicians and patients with more flexibility and helps to make care more efficient and accessible.
The reality is that often online appointments are just as effective while being more convenient for patients. In fact, the Canadian Medical Association found that during the pandemic, 91% of telehealth patients were satisfied with their experience.
And over two-thirds of Canadians support continuing telemedicine even after the end of the COVID-19 pandemic.
Canadians feel this way because telehealth gives them their time back! Telehealth is also a valuable alternative for people with mobility issues, as it can allow patients to have more control and options over their care. In this way, it makes care more accessible and that is one of the keys to improving healthcare outcomes.
Innovative technology will also play a part in transforming telehealth services. In the future, telehealth will become even more integrated with brick-and-mortar clinics, providing a seamless transition between virtual and face-to-face care.
At Tia Health, we know that we will continue to evolve to make sure Canadians have access to convenient, efficient healthcare options.
Book an online appointment to speak with a doctor today.