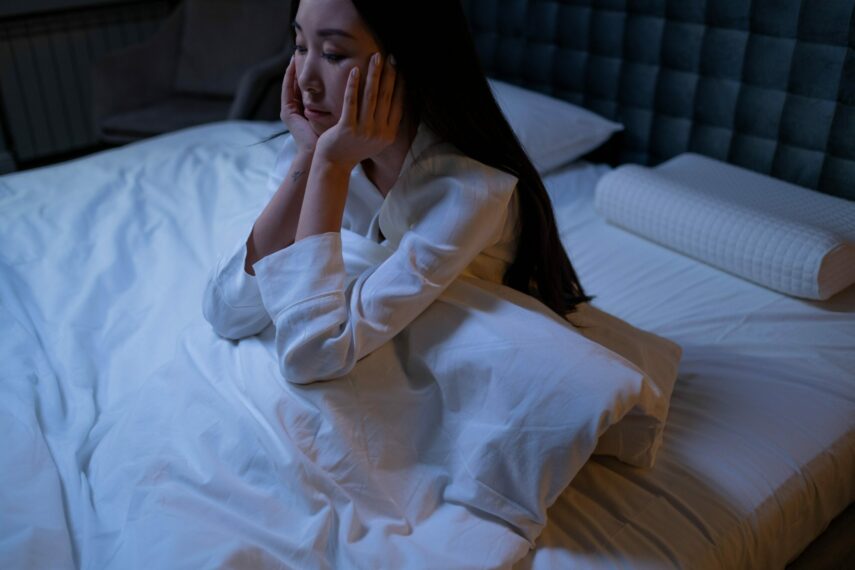 How to sleep with anxiety? This is the question every second Canadian has asked themselves at least once in their lifetime. Sleep anxiety is a form of sleep deprivation that results from an inability to fall asleep due to worrying, disturbing and anxious thoughts that appear as soon as you go to bed. Often, anxiety at nighttime may lead to panic attacks and other anxiety disorders.  
When it comes to anxiety, whether it is related to sleep or not, it is important to understand why it's happening and where it comes from. Because when you are knowledgeable about certain things, it is easier to cope with them. To help you understand how to sleep with anxiety and set yourself for a calm night. Our blog covers the most important aspects of sleep anxiety and offers some useful tips you can put into action.  
How to recognize sleep anxiety?
Sleep anxiety is a form of sleep disturbance, in some cases insomnia, that results from worrisome thoughts that prevent you from falling asleep or getting back to sleep. You can imagine this process as a negative cycle of thoughts that become gradually exaggerated as you try to fall asleep. These thoughts are usually related to what makes you experience anxiety or nervousness throughout the day, sometimes without a valid reason. As a result, excessive and anxious overthinking prevents you from falling asleep and resting at night.  
Symptoms of Sleep Anxiety
Some of the behavioural symptoms of sleep anxiety include: 
Inability to fall or stay asleep

 

Sense of danger 

 

Restlessness & nervousness

 

Nightmares

 

Hypnic jerks 

 
Some of the physical symptoms include:  
Rapid heartbeat 

 

Sweating

 

Rapid breathing 

 

Tension in muscles 
Causes of Sleep Anxiety
As humans, we tend to experience stress that releases certain hormones called adrenaline and cortisol. When your stress triggers become chronic, these same hormones gradually grow and stay. Chronically elevated levels of adrenaline and cortisol negatively impact your sleep and deprive it. They prevent your body and brain from restful and relaxed conditions and develop sleep anxiety. Consistent sleep with anxiety leads to:  
Lack of focus 

 

Fast-changing mood

 

The likeliness of developing a depression

 

Fatigue

 
Tips on How to Get a Good Sleep with Anxiety
Even though it might seem impossible to find the answer to the question of how to get a good sleep with anxiety, we have few solutions for worry-based insomnia.  
Here are 7 effective tips on how to set yourself up for a peaceful night: 
Practice meditation before going to bed

 
Practice mindful breathing before going to bed

 

Speaking to a therapist to address any underlying mental health factors
Avoid doing activities that make you feel stressed before going to bed

 
Take care of your sleep hygiene

 
Limit the intake of caffeine, alcohol & other similar substances

 
Download a mind-soothing app that helps you fall asleep better

 
When do I need to seek medical attention?
Sleep anxiety is a normal reaction of your body to increased stress levels. As soon as the stressor disappears, anxiety leaves as well. Nevertheless, sometimes sleep anxiety might become chronic. You can notice this if your sleep anxiety starts to interrupt your day-to-day activities and makes you feel depressed. In this case, it is a clever idea to consider consulting a medical professional. You can book your online appointment with one of Tia Health's doctors and learn what your options are.  
Book an online appointment to speak with a doctor today.