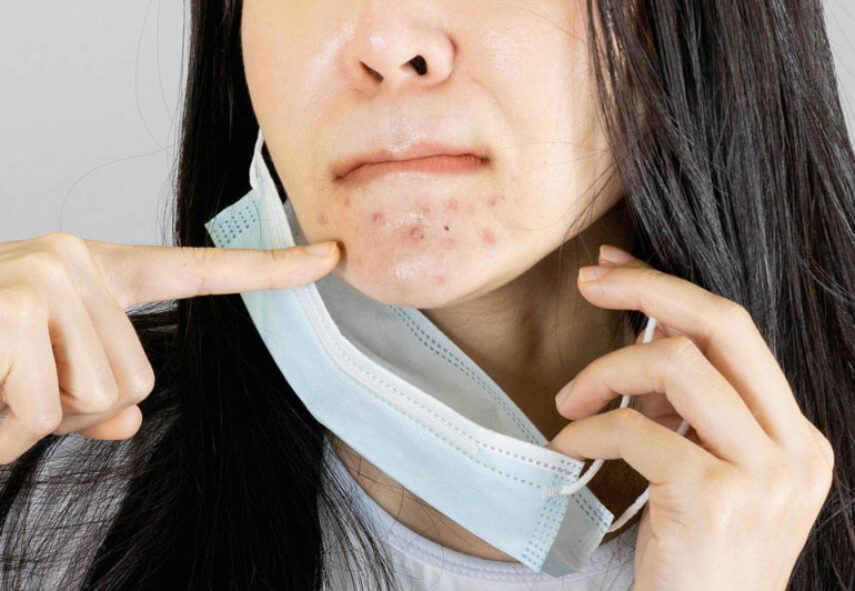 What exactly is maskne? 
Maskne refers to the acne experienced because of wearing a face mask. It's not a new problem and individuals who have to wear a mask for their profession have suffered from the issue for decades, but it's certainly increasing since the global population has been required to wear a mask as a defence against COVID-19.  
This type of acne is being caused by the rubbing, friction, or pressure of the face mask on the skin. Wearing a face mask for a sustained period can cause a buildup of humidity and sweat, which is the perfect environment for the development of acne. This sweat, alongside friction from the mask, can lead to blocked pores which cause acne and an increased breakout of pimples on the chin or lower cheeks where the mask sits.  
How do I know if I have maskne?
If you notice that you have recently developed any of the below symptoms on your skin where a face mask covers, then you likely have maskne: 
Red bumps 

 

Inflammation 

 

Burning, stinging, or soreness

 

A rash

 

Itching 

 
How can I prevent maskne? 
A dermatologist shares seven helpful tips on protecting the skin from maskne: 
Invest in a reusable, breathable mask that properly fits your face. 

To offer you and others the best protection against COVID-19, your face mask should sit snugly on your face. However, it should not be so tight that it leaves a pinched mark or indentation on the skin. The more pressure there is against the skin, the higher chance there is of maskne developing. Those with sensitive skin may also find disposable polypropylene masks, that contain plastic, very irritating. 

 

Wash your mask regularly. 

It is recommended that you wash your mask every time you have worn it to protect against COVID-19. This is also good practice for preventing maskne as washing the mask will eliminate the bacteria that builds up in it. 

 

Avoid wearing a lot of makeup underneath the mask. 

To avoid the development of maskne, it is important for the skin to be able to properly breathe. Therefore, wherever possible only apply a light layer of makeup to ensure that the pores do not get clogged. A heavy layer of makeup is also more likely to lead to transference between the skin and mask, resulting in irritation.

 

Keep skin clean and hydrated with a regular cleansing schedule. 

Dry skin can be a big cause of skin irritation, sensitivity, or breaking out in maskne. Therefore, especially in winter, you can help prevent maskne and keep the face hydrated by using a gentle cleanser every day.

 

Try applying a barrier cream. 

If your maskne is stubborn and isn't responding to any other changes, then investing in a barrier cream may be a good option for you. This would be applied to the face just before putting your mask on to help reduce the friction and contact of the mask on your skin.

 

Take regular breaks. 

Wherever it is safe to do so, remove your mask and give your skin the opportunity to breathe. If you are working in a profession where wearing a mask all day is required, try even just removing it every time you visit the washroom alone as every little break will help the skin get some important fresh air. 

 

Wash your face when you return home. 

When you get home from a sustained period of wearing your mask, give your face a nice gentle wash and moisturize to help ensure it is clean and remove any excess sweat or oils. 

 
If these practices have not helped and you continue to experience symptoms of maskne then you should consult with a physician who may in turn refer you to a dermatologist.  
Book an online appointment to speak with a doctor today.